You can apply immediately in 5 easy steps to the University of the People🐼
Who should read this article?
・Someone who is interested in University of the People
・Someone who wants to apply for UoPeople, but do not know how
After reading this article, you will know how to apply for the University of the People in just 10 minutes!
I used to pay a high tuition to attend the University in Wisconsin in the United States and the American University in Prague. As a result, I decided to join the University of the People because I wanted to save on tuition and be able to adjust my private and work schedules by learning online.
According to the official website of UoPeople, the cost of four years costs about $ 2060 for a two-year associate, the bachelor's degree of a four-year bachelor is about $ 4060, and the MBA is about $ 2460, M.Ed. is an exceptional price of about $ 2,660!
You should be careful the fact that it IS tution-free, but it does incur some fees, which are:
Application fee of $60
Assessment fee of $100
The assessment fee is the fee for taking final exam at the end of each course, and it is why it is not completely free. A lot of people misunderstand that the university is completely free, but it needs to have adequate money to provide the necessary services to the students.
However, you can get a bachelor's degree for less than $5000!
Click here for more details on Tuition.
In my case, I have already attended at two different American universities in the USA and Czech Republic, the cost is about $2000 in 2 years!
I'm most pleased that the burden of tuition that I had paid for has been eliminated!

---
Submit application
① Access the University of the People and click on "Apply Now" in the middle.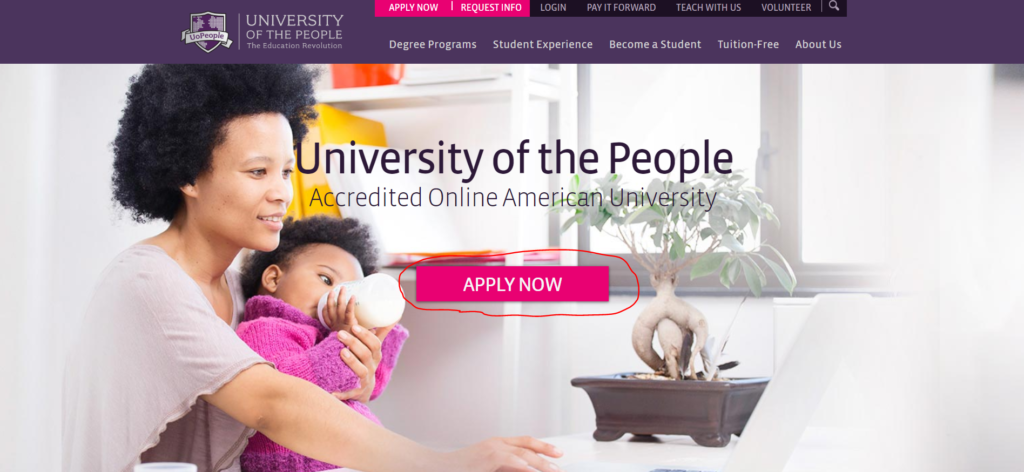 ②Enter your name, e-mail address, subject you want to major in, and how many years the program (2 years Associate's degree or 4 years bachelor's degree bachelor or master's master's)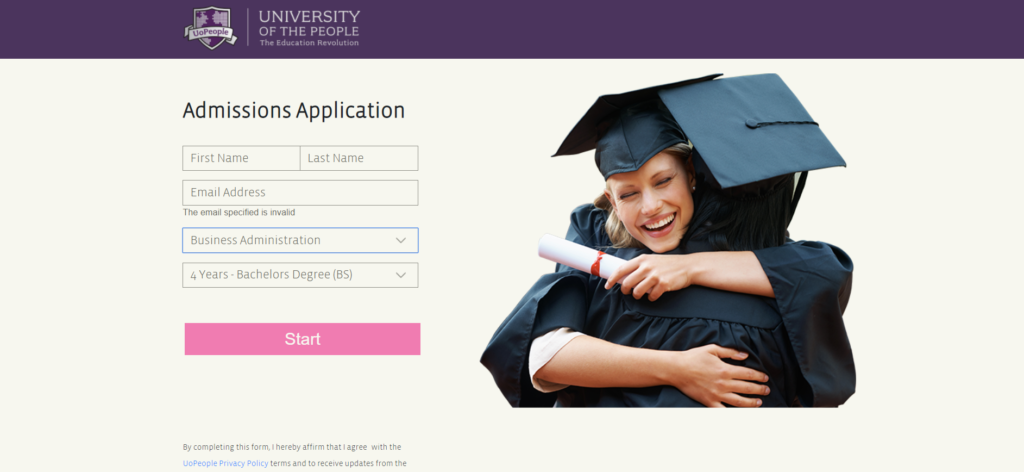 ③ Enter your address.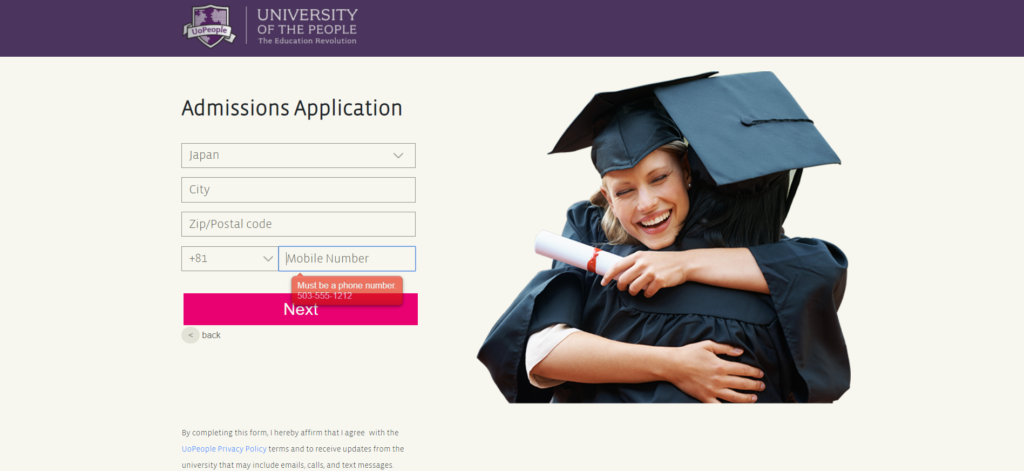 ④ Enter your name, hometown, gender and first language.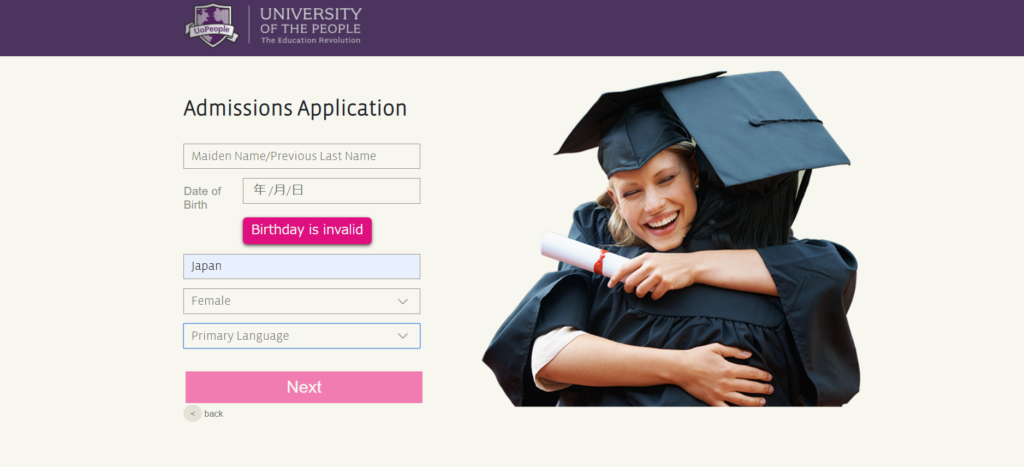 ⑤Enter your final educational background. In the last item, "Electronic Signature", write your name and sign it. Finally, press the "Submit" button to complete the application.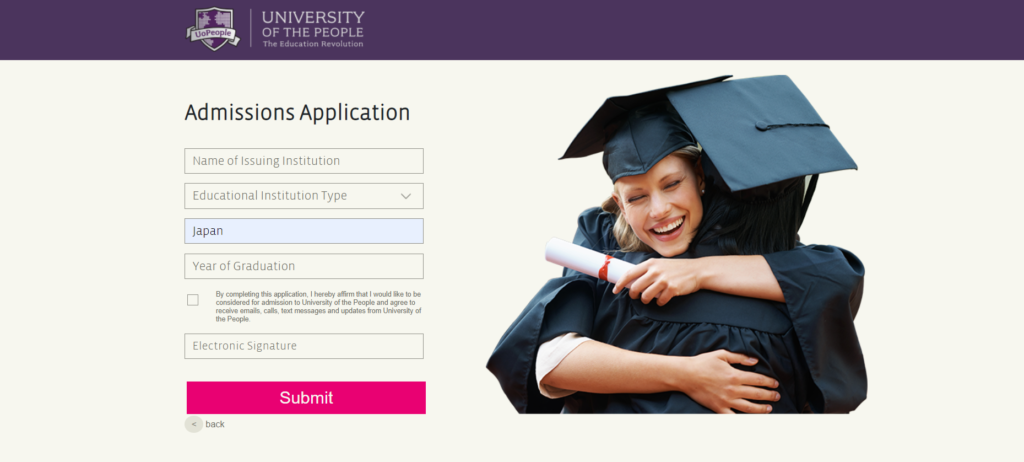 Application completed!
Application is easy in 5 steps, it can be done in about 10 minutes!
Since it is an online university, you do not have to do any complicated overseas mailing because you can do all the basics online.
If you want to take high-quality classes at an American university, or want to take higher-quality and cheaper university classes because the tuition of the university you are paying is high, etc., you should consider studying at UoPeople!
Click here for articles that will be helpful to anyone after enrolling🐼
Below are articles that are based on my experience at UoPeople and as a Japanese student who have already studied at normal universities (universities that have physical campuses) in the USA and Czech Republic, I am most satisfied with the quality of textbook and materials used on UoPeople's online courses🐼
※I already wrote the articles in Japanese and will keep translating them into English for you! (April 12th, 2020)